Kate Daniels
Kate Daniels, tome 1, Morsure Magique, de Ilona Andrews
À Atlanta deux réalités s'opposent : celle de la technologie et celle de la magie.
Pendant une vague magique, les mages sauvages lancent leurs sorts et des monstres apparaissent, les armes à feu refusent de fonctionner et les voitures ne démarrent plus. Puis la vague se retire aussi vite qu'elle est venue en laissant derrière elle toutes sortes de problèmes paranormaux. Nous vivons une époque dangereuse. Mais dans le cas contraire, je serais au chômage.
Quand les gens ont des ennuis qui relèvent de l'occulte, et que la police ne veut ou ne peut pas régler, on fait appel aux mercenaires de la magie comme moi. Mais quand un nécromancien anéantit la seule famille qui me reste, je n'attends plus les ordres et je dégaine mon sabre....
Kate Daniels, tome 2, Brulure Magique, de Ilona Andrews
En tant que mercenaire spécialisée dans le nettoyage des problèmes magiques, Kate Daniels a rencontré sa part d'événements étranges.
Lorsqu'elle s'engage à retrouver un ensemble de cartes volées à la Meute, elle se rend rapidement compte qu'il y a plus en jeu. Les cartes volées ne sont qu'un pion dans un combat entre deux dieux espérant la renaissance.
Kate Daniels, tome 3, Attaque Magique, de Ilona Andrews
Sélectionnée pour travailler pour l'Ordre, la mercenaire Kate Daniels est submergée par les problèmes paranormaux ces temps-ci. Mais quand Derek, son ami loup-garou, est retrouvé presque mort, elle va devoir faire face à un danger sans comparaison. Son enquête la mène au Midnight Games - un tournoi de combats pour créatures surnaturelles, sans limite et sur invitation seulement. Elle et Curran découvre un sombre complot qui pourrait bien changer à tout jamais la communauté des métamorphes d'Atlanta.
Kate Daniels, tome 4 : Blessure Magique, de Ilona Andrews
Kate Daniels va avoir du boulot pour rétablir l'ordre au sein des communautés surnaturelles. Un étrange personnage vêtu d une cape s'amuse à répandre une espèce de peste magique et virulente qui rend les Changeformes fous. Alors que ce personnage, surnommé le Mary d'Acier, sème la panique un peu partout en ville, Kate découvre que celui qui se cache derrière tout ça a un lien avec sa propre famille...
Kate Daniels, tome 4.5 : Magic Dreams, de Ilona Andrews
Magic Dreams originally appeared in the anthology Hexed.

From New York Times bestselling author Ilona Andrews comes a tale of darkness, desire, and werecats.

Alpha Pack leader Jim Shrapshire has always been the strong, silent type. But something has come over him--a magic force currently residing in one of the Pack's headquarters. Were-tigress Dali Harimau has always wished she could get Jim's attention--but now he needs her help.

Stricken with a magic-sickness, Jim needs Dali's flair for magic. And to save him, she must challenge a powerful, dark being to a battle of wits.
Kate Daniels, tome 5 : Magic Slays, de Ilona Andrews
Plagued by a war between magic and technology, Atlanta has never been so deadly. Good thing Kate Daniels is on the job.

Kate Daniels may have quit the Order of Merciful Aid, but she's still knee-deep in paranormal problems. Or she would be if she could get someone to hire her. Starting her own business has been more challenging than she thought it would be—now that the Order is disparaging her good name, and many potential clients are afraid of getting on the bad side of the Beast Lord, who just happens to be Kate's mate.

So when Atlanta's premier Master of the Dead calls to ask for help with a vampire on the loose, Kate leaps at the chance of some paying work. Turns out this is not an isolated incident, and Kate needs to get to the bottom of it—fast, or the city and everyone dear to her might pay the ultimate price . . .
Kate Daniels, tome 5.4 : Magic Gifts, de Ilona Andrews
Available as FREE download from Ilona Andrews Website for 2 weeks from Christmas Day, this novella takes place at the same time as Andrea's book, right after MAGIC SLAYS, and the two stories intersect.

A dinner date after a hard day at work sounds heavenly. Of course, when that date is between the Beast Lord and Kate Daniels, things don't go as planned. Before you know it, undead are running amok, heads are being chopped off, lawyers are deployed and used with extereme prejudice, and drunk vikings are calling people out.

Read at your own risk.

MAGIC GIFTS will appear as a bonus in the back of GUNMETAL MAGIC, Andrea's book.
Disponible en tant que cadeau de noël pendant 2 semaines gratuitement - voir le site de l'auteur - cette nouvelle s'intercale entre le tome 5 et le tome qui se centrera sur Andrea Gunmetal Magic (août 2012). Cette nouvelle apparaitra en tant que bonus à la fin du fameux roman, donc pas d'inquiétude si vous ratez le téléchargement.
Kate Daniels, tome 5.5 : Gunmetal Magic, de Ilona Andrews
After being kicked out of the Order of the Knights of Merciful Aid, Andrea's whole existence is in shambles. She tries to put herself back together by working for Cutting Edge, a small investigative firm owned by her best friend. When several shapeshifters working for Raphael Medrano—the male alpha of the Clan Bouda, and Andrea's former lover—die unexpectedly at a dig site, Andrea is assigned to investigate. Now she must work with Raphael as her search for the killer leads into the secret underbelly of supernatural Atlanta. And dealing with her feelings for him might have to take a back seat to saving the world…
Kate Daniels, tome 6 : Magic Rises, de Ilona Andrews
Atlanta is a city plagued by magical problems. Kate Daniels will fight to solve them—no matter the cost.
Mercenary Kate Daniels and her mate, Curran, the Beast Lord, are struggling to solve a heartbreaking crisis. Unable to control their beasts, many of the Pack's shapeshifting children fail to survive to adulthood. While there is a medicine that can help, the secret to its making is closely guarded by the European packs, and there's little available in Atlanta.
Kate can't bear to watch innocents suffer, but the solution she and Curran have found threatens to be even more painful. The European shapeshifters who once outmaneuvered the Beast Lord have asked him to arbitrate a dispute—and they'll pay him in medicine. With the young people's survival and the Pack's future at stake, Kate and Curran know they must accept the offer—but they have little doubt that they're heading straight into a trap…
Kate Daniels, tome 7 : Magic Breaks, de Ilona Andrews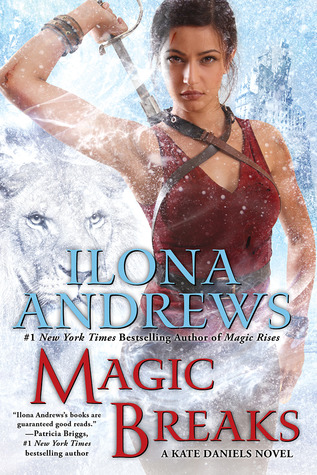 No matter how much the paranormal politics of Atlanta change, one thing always remains the same: if there's trouble, Kate Daniels will be in the middle of it…
As the mate of the Beast Lord, Curran, former mercenary Kate Daniels has more responsibilities than it seems possible to juggle. Not only is she still struggling to keep her investigative business afloat, she must now deal with the affairs of the pack, including preparing her people for attack from Roland, a cruel ancient being with god-like powers. Since Kate's connection to Roland has come out into the open, no one is safe—especially those closest to Kate.
As Roland's long shadow looms ever nearer, Kate is called to attend the Conclave, a gathering of the leaders from the various supernatural factions in Atlanta. When one of the Masters of the Dead is found murdered there, apparently at the hands of a shapeshifter, Kate is given only twenty-four hours to hunt down the killer. And this time, if she fails, she'll find herself embroiled in a war which could destroy everything she holds dear…
Les commentaires sont clôturés
Date de dernière mise à jour : 26/09/2015