Jennifer Estep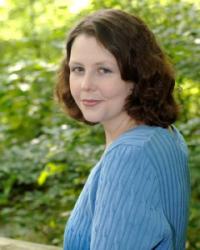 Biographie de l'auteur :
Jennifer Estep est un auteur à temps plein, rôdant dans les rues de son imagination à la recherche de sa prochaine idée fantastique. Elle est l'auteur de la série Elemental Assassin ( L'exécutrice en français, paru chez J'ai Lu), une série de fantasy urbaine pour les livres de poche, ainsi que de Mythos Académie, une série de fantasy urbaine pour jeunes adultes.
Jennifer a aussi travaillé comme écrivain et contepteur de pages pour un journal lauréat du prix Pulitzer, et a plus de 10 d'expérience du journalisme.
Elle est membre de la Romance Writers of Ameria, de la Science Fiction and Fantasy Writers of America, et d'autres groupes d'écriture.
Vous pouvez la suivre sur Facebook, Goodreads et Twitter.
Livres de l'auteur chroniqués :
L'Exécutrice / Elemental Assassin
L'Exécutrice, tome 1, Le baiser de l'araignée, de Jennifer Estep / Avis 2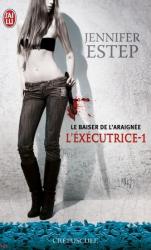 On l'appelle l'Araignée. C'est une tueuse professionnelle qui maîtrise le pouvoir de la pierre lui permettant d'entendre les graviers comme les montagnes et celui de la glace. Depuis qu'un tueur maîtrisant l'air a assassiné son mentor, elle ne pense qu'à sa vengeance.
L'Exécutrice, tome 2 : Trahisons, de Jennifer Estep / Avis 2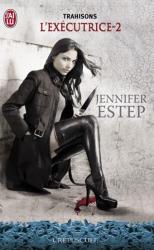 Je suis Gin Blanco, l'Araignée, la tueuse à gages la plus redoutée du sud des Etats-Unis. L'autre jour, une fusillade a éclaté dans mon restaurant mais les balles ne m'étaient pas destinées. Elles visaient Violet Fox. Depuis que j'ai décidé de l'aider, elle et son grand-père, je me demande dans quelle sale affaire je me suis lancée... Quant à l'inspecteur Caine, il a décidément bien du mal à contrôler son attirance pour moi et, pour ma part, je dois avouer que je résiste difficilement à l'envie de lui sauter dessus. Je n'y suis pour rien, je suis une élémentale de pierre, mais mon coeur, lui, n'est pas de marbre...
L'Exécutrice, tome 3 : Venin, de Jennifer Estep / Avis 2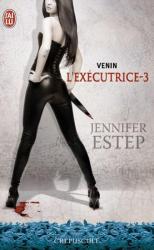 Pour tout le monde, je m'appelle Gin Blanco, propriétaire d'un restaurant qui sert le meilleur porc grillé d'Ashland. Pour mes amis, je suis l'Araignée, tueuse à gages à la retraite. Ma mission actuelle est d'ordre privé : annihiler Mab Monroe, l'élémentale de feu qui a assassiné ma famille. Je rends quelques services ici et là : débarrasser une amie vampire du désaxé qui la traque, par exemple. J'ai retrouvé ma petite soeur que je croyais morte. Mais je n'ai pas pu lui avouer ma véritable nature : une tueuse impitoyable. Quant à Owen Grayson, il en sait un peu trop sur moi, mais il est si irrésistible...
L'Exécutrice, tome 4 : L'orchidée et l'araignée, de Jennifer Estep / Avis 2
Me voilà, Gin Blanco, redoutable tueuse à gages connue sous le nom de l'Araignée. J'ai une cible bien précise : Mab Monroe, une élémentale de Feu. Cette dernière a engagé l'un des assassins les plus dangereux pour me piéger. Elektra LaFleur, habile et efficace, détentrice d'une magie élémentale mortelle, aussi puissante que mes propres pouvoirs. Ce qui signifie donc qu'une seule de nous deux restera en vie… Et Elektra a une deuxième mission : tuer ma petite sœur, l'inspectrice Bria Coolidge. Gros problème : Bria n'a aucune idée que je suis sa sœur… ou plutôt le meurtrier qu'elle traque depuis des semaines. Or, ce que Bria ne sait pas pourrait faire bien des victimes…
L'Exécutrice, tome 5 : La Revanche de l'Araignée, de Jennifer Estep / Avis 2
Je suis Gin Blanco, l'Araignée, la plus redoutable tueuse à gages d'Ashland. Mon unique objectif : expédier Mab Monroe tout droit en enfer. L'élémentale de feu qui a décimé ma famille s'en prend aujourd'hui à ma petite soeur, Bria Coolidge, et a lancé des hordes de chasseurs de primes à mes trousses. La garce ! Même si je dois y laisser ma peau, j'obtiendrai la vengeance que j'attends depuis dix-sept ans. Car j'ai été élevée pour tuer. Pour la tuer. Mes proches seront là pour m'épauler. Mes pouvoirs de pierre et de glace aussi. Sans oublier mes fidèles couteaux en argylithe, qui me brûlent déjà les doigts...
L'Exécutrice, nouvelles 0.5 à 4.5, de Jennifer Estep
Poison (#0.5) :
This short story takes place when Gin is a teenager and is told from the point of view of Finnegan Lane, Gin's fos­ter brother.
Web of Deceit (#0.6)
This short story takes place when Gin is a teenager. It's told from the point of view of Fletcher Lane, Gin's assas­sin men­tor, and focuses on Gin's first solo job as the assas­sin the Spi­der.
Spider's Bargain (#0.7) :
This short story takes place before the events of Spider's Bite, the first book in the Elemental Assassin series. In "Spider's Bargain," Gin Blanco takes on a corrupt cop, but only one of them will be left standing in the end.
Web of Death (#1.5) :
This short story takes place after the events of Spider's Bite but before the begin­ning of Web of Lies. In "Web of Death," Gin Blanco's retire­ment is inter­rupted by some unwanted guests.
Wasted (#2.5) :
This short story takes place in between the events of Web of Lies and Venom. One day, a beau­ti­ful woman walks into the bank where Finn works, and trou­ble soon fol­lows.
Tangled Dreams (#3.5)
This short story takes place in between the events of Venom and Tan­gled Threads. It's told from the points of view of Jo-Jo Dev­er­aux and her sis­ter, Sophia Dev­er­aux. When a car­jacker fol­lows an injured Gin back to Jo-Jo's beauty salon, Jo-Jo and Sophia join forced to elim­i­nate the threat.
Tangled Schemes (#3.6)
This short story spans a period of time start­ing from the last chap­ter of Spider's Bite and end­ing right before the begin­ning of Tan­gled Threads. It's told from Detec­tive Bria Coolidge's point of view and shows her search for her long-lost sis­ter Genevieve Snow. What Bria doesn't know is what she's going to do about the fact that Genevieve also hap­pens to be the assas­sin the Spi­der.
Spider's Nemesis (#4.5)
This short story spans a period of many years, beginning before Gin was born and ending during the events of Tangled Threads. It is told from the point of view of Mab Monroe and shows how the Fire elemental grew up, including her first meeting with Eira Snow, Gin's mother.
L'Exécutrice, tome 5.5 : Thread of Death, de Jennifer Estep
Gin Blanco, aka the assassin the Spider, might have finally killed her nemesis, Mab Monroe, but that doesn't mean that it's smooth sailing. Gin goes to Mab's funeral to say her goodbyes and runs into some of Ashland's most notorious underworld power players, including Jonah McAllister and Phillip Kincaid. McAllister wants her dead, and Kincaid has his own murky motives when it comes to the Spider, and Gin once again finds herself fighting for her life. Only this time, she might wind up in the cemetery right next to Mab.
L'Exécutrice, tome 6 : By a Thread, de Jennifer Estep
Quand votre boulot c'est de tuer des gens, il n'y a rien de mieux que des vacances.
Mais combien de fois un tueur à gages a-t-il l'occasion de profiter de ses vacances ? Dans ce métier, vous êtes soit chanceux soit mort. Et depuis que j'ai vaincu ma Némésis, Mab Monroe, il y a quelques mois, tous les malfrats d'Ashland tentent de se faire un nom en se faisant la mortelle Araignée - moi, Gin Blanco. J'ai alors quitté mon bien aimé restaurant et ai suivi ma petite sœur dans le Sud, Bria, pour mettre les pieds dans le sable. Appelez ça un week-end détente sous le soleil.
Mais quand un puissant vampire disposant de vilaines capacités élémentaires menace la plus vieille amie de Bria, tout semble à croire que je vais devoir ressortir les couteaux de la valise finalement.
Les choses se compliquent encore avec la réapparition de l'inspecteur Donovan Caine, mon ancien amant. Mais Donovan est le dernier de mes soucis. Parce que cette fois, le danger me suit à la trace, et même mes pouvoirs de Glace et de Pierre pourraient ne pas suffit à m'empêcher de brûler sur le sable - définitivement.
L'Exécutrice, tome 6 : Révélation, de Jennifer Estep
En tuant Mab Monroe, son ennemie de toujours, Gin a dévoilé sa deuxième identité. Depuis, les élémentaux se bousculent aux portes de son restaurant pour provoquer l'Araignée en duel. Mais elle sent la lassitude la gagner… un état bien dangereux quand on fait ce métier ! Des vacances au soleil étant plus que méritées, Gin part avec sa sœur Bria dans un hôtel en bord de plage, sur une île à la frontière de la Géorgie. Mais plusieurs obstacles mettent à mal ces quelques jours, à commencer par la réapparition du séduisant Donovan Caine…
L'Exécutrice, tome 7 : Widow's Web, de Jennifer Estep
I used to murder people for money, but lately it's become more of a survival technique. Once an assassin, always an assassin. So much for being plain old Gin Blanco. With every lowlife in Ashland gunning for me, I don't need another problem, but a new one has come to town anyway. Salina might seem like a sweet Southern belle, but she's really a dangerous enemy whose water elemental magic can go head-to-head with my own Ice and Stone power. Salina also has an intimate history with my lover, Owen Grayson, and now that she's back, she thinks he's hers for the taking. Salina's playing a mysterious game that involves a shady local casino owner with a surprising connection to Owen. But they call me the Spider for a reason. I'm going to untangle her deadly scheme, even if it leaves my love affair hanging by a thread.
L'Exécutrice, tome 8 : Deadly Sting, de Jennifer Estep
Red is definitely my color. Good thing, because in my line of work, I end up wearing it a lot.
Most people shy away from blood, but for an assassin like me— Gin Blanco, aka the Spider—it's just part of the job. Still, it would be nice to get a night off, especially when I'm attending the biggest gala event of the summer at Briartop, Ashland's fanciest art museum. But it's just not meant to be. For this exhibition of my late nemesis's priceless possessions is not only the place to be seen, but the place to be robbed and taken hostage at gunpoint as well. No sooner did I get my champagne than a bunch of the unluckiest thieves ever burst into the museum and started looting the place.
Unlucky why? Because I brought along a couple of knives in addition to my killer dress. Add these to my Ice and Stone magic, and nothing makes me happier than showing the bad guys why red really is my color.
L'Exécutrice, tome 8.5 : Kiss of Venom, de Jennifer Estep
Owen Grayson is bound and determined to get Gin back...if her enemies don't get her first.
When you have a history of dating an assassin, a night out on the town can turn deadly—fast. Owen Grayson is still wracked with guilt over the end of his love affair with Gin Blanco, and there aren't enough gin and tonics in all of Ashland to ease his heartache. But when Gin happens to show up at the same nightclub, he isn't the only one hoping to get her alone. Some shadowy figures will do anything to take down the Spider, Gin's assassin alter ego, and Owen will do anything to protect her. This could be the way to win her back, or at least give her a night off from fighting for her life—if Owen can survive...
L'Exécutrice, tome 9 : Heart of Venom, de Jennifer Estep
When a terror from the past threatens Gin's friend and body-disposer, Sophia, Gin will stop at nothing to protect her, even if it means walking straight into a killer's trap. Meanwhile, the rocky romance between Gin and Owen reaches a turning point—can they reunite and rekindle their love? Or will the things Gin has been forced to do in her line of work as the deadly assassin the Spider keep them apart forever? Assuming, that is, she survives long enough to find out…
L'Exécutrice, tome 10 : The Spider, de Jennifer Estep
For the first time, the origins of Gin Blanco's career as the deadly assassin "the Spider" are revealed in full. In a story that pre-dates the other nine books in the series, Gin Blanco goes through her paces to become the most feared assassin in the Ashland.
L'Exécutrice, tome 11 : Poison Promise, de Jennifer Estep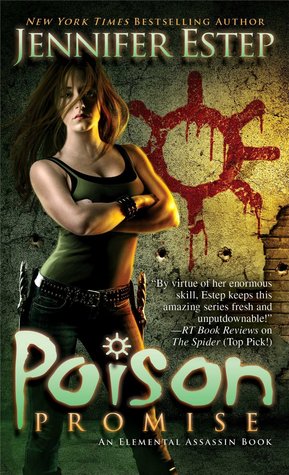 Gin Blanco is hard-nosed, sexy, and lethal. Nicknamed "The Spider," she's a stone elemental assassin who brings her unique mix of magic and tact to every assignment, no matter the target.
There's a new drug on the streets of Ashland, and its name "Burn" sums up the potent effect it has on its users. When one of her restaurant employees is threatened by dealers of the drug, Gin steps in to set things straight…
L'Exécutrice, tome 12 : Black Widow, de Jennifer Estep
There's nothing worse than a cruel, cunning enemy with time to kill—and my murder to plan.
With wicked Fire elemental Mab Monroe long gone, you'd think I could finally catch a break. But someone's always trying to take me down, either as Gin Blanco or my assassin alter-ago. Now along comes the Spider's new arch-nemesis, the mysteriously named M. M. Monroe, who is gleefully working overtime to trap me in a sticky web of deceit.
The thing is, I'm not the only target. I can see through the tangled threads enough to know that every bit of bad luck my friends have been having lately is no accident—and that each unfortunate "coincidence" is just one more arrow drawing ever closer to hitting the real bulls-eye. Though new to Ashland, this M. M. Monroe is no stranger to irony, trying to get me, an assassin, framed for murder. Yet, as my enemy's master plan is slowly revealed, I have a sinking feeling that it will take more than my powerful Ice and Stone magic to stop my whole life from going up in flames.
Elemental Assassin / L'Exécutrice, tome 13 : Spider's Trap, de Jennifer Estep
Keep your friends close but your enemies within stabbing distance.
One important lesson I've learned in the assassination business is that to be the best you have to roll with the punches. Now that I'm queen of Ashland's underworld—by default, not by choice—a lot more punches are being thrown my way. But I suppose that's the price of victory for taking down some of the underworld's top dogs. Good thing I have my Ice and Stone magic to help me survive my volatile new position. Just when I think things are finally settling down, someone tries to murder me during a hush-hush underworld meeting. But the real surprise is how strangely familiar my shadowy assailant seems to be.
My job is to maintain order among killers, crooks, and thieves, and soon I'm embroiled in a bloody game where the ability to keep secrets could be the greatest superpower of all. My enemies have all sharpened their knives and laid their traps, waiting for me to fall. But this Spider weaves her own webs of death…
Elemental Assassin / L'Exécutrice, tome 14 : Bitter Bite, de Jennifer Estep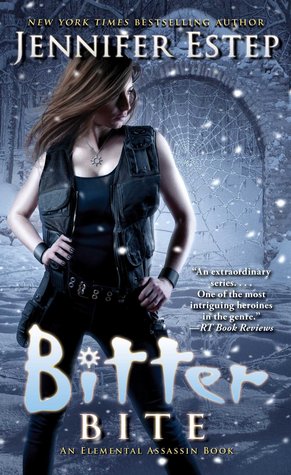 Which is stronger: blood ties or a battle-tested friendship?
It's not easy being queen bee of an underworld abuzz with crooks and killers. Wielding my potent Ice and Stone elemental magic will only get me so far—my real secret is my tight-knit makeshift family, a motley crew of cops and criminals, dwarves and playboys. My foster brother Finnegan Lane is my right-hand man, but when his suddenly not-dead relative comes back into the picture, I'm the one on the outside looking in.
It's funny how life works: one minute your best friend is rock-steady, and the next he's doe-eyed and buying into this whole loving-relative routine to the point of ignoring you. I'd like to be happy for Finn, I really would. But all of my instincts are telling me that beneath the syrupy sweet demeanor and old-fashioned charm, this sudden interloper is planning something. The whole shtick leaves a bitter taste in my mouth. This person might have avoided the grave once, but I'll put anyone who hurts Finn in the ground—for good.
Les commentaires sont clôturés
Date de dernière mise à jour : 26/09/2017